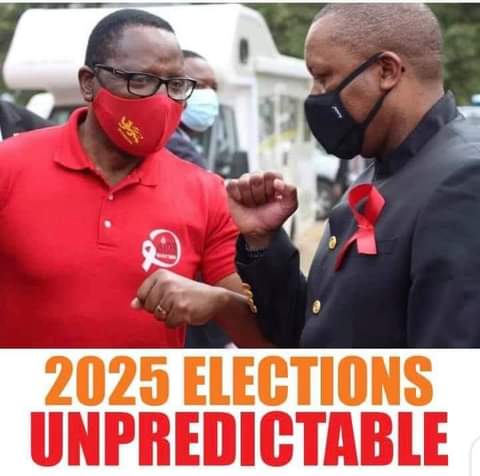 When Malawians cast their votes, they want their expectations met. They envision that their lives will be transformed for the better. They just don't just assist their leaders to ascend to power but they expect them to be visionary by putting in place pro-poor policies.
Unfortunately, when presidential candidates assume the mantle of leadership, they deliberately ignore their campaign promises and instead, focus on how they can remain in power forever.
A very good example is Reverend Chakwera who promised that he would transform people's lives in 2 years and he even went further to promise the gullible Malawians that he would resign if he failed to fulfill his campaign promises.
Three years down the line, Reverend Chakwera still remains in power while most Malawians are languishing in abject poverty.
Only a few people who have surrounded President Chakwera are amassing a lot of wealth and these are the ones who are encouraging him to stand again in 2025.
They even have no shame to publicly compete among themselves as to who loots the government coffers most.
It is therefore against this background that Malawians are forewarned against making another mistake of electing dishonest and unscrupulous leaders. In this article, we will discuss the kind of leader Malawians are looking forward to in 2025.
At a time when corruption is high, Malawians are looking forward in 2025  to a leader who is determined to stamp out this vice without fear or favor. Such a leader should be a man of high integrity with no record of dishonesty nor traces of corrupt practices.
Secondly,  as most Malawians are grappling with abject poverty, they therefore expect their leader to put in place policies that can directly address poverty.
In a nutshell, such policies should focus on wealth and job creation, bridging the gap between the rich and the poor, and warding off incessant inequalities among my fellow Malawians.
Thirdly, Malawians need a leader who will unite them. Such a leader will be required to be neither tribalistic nor regionalistic. Presidential candidates must understand that once they win elections, they become the Head of State and Government. 
They should avoid favoring their political parties' sycophants because presidents are paid from taxpayers' money. It is common knowledge that every citizen regardless of any political affiliation pays taxes. In a nutshell, the president should unite all Malawians without considering their regions of origin, social status, political affiliation, race, and religion.
Fourthly,  Malawians are looking forward to a president who is development-conscious in 2025. Gone are the days when patients had be walk long distances to a dilapidated health facility that was embarrassingly deficient in essential medical supplies. In fact, Malawians are expecting their president to erect infrastructures evenly across all regions of the country.
Last but not least, as public service delivery is pathetically poor, Malawians have high expectations of the winner of the 2025 presidential elections who must transform the public sector.
In the era of the fourth industrial revolution, it is unfathomable why it takes ages to process a mere driving licence or a passport.
One does not need to wait for a long time to have water or electricity newly connected to their homes. By the way, why did President Chakwera choose to hide a public sector reform report that his Vice President, Dr. Saulos Chilima submitted two years ago?
Does President Chakwera have a political will to reform the public sector? The 15-day ultimatum by the Centre of Human Rights and Rehabilitation (CHRR) to force President Chakwera to make the public sector reform report public is the best way forward.
In conclusion,  Malawians are looking forward to a leader who is of high integrity and development-conscious in the next general elections. Such a leader is also expected to unite all Malawians across all regions and tribes. He must also be determined to eradicate poverty and corruption which are rampant among the citizens.
Malawians also expect their leader to be exude political will towards ameliorating public service delivery.