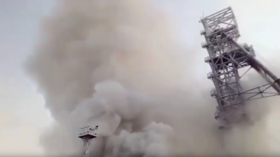 A large blaze has erupted at a mine near the city of Solikamsk in Russia's Urals, with giant plumes of smoke filmed rising from the facility.
At least nine people have been trapped underground as fire continues to rage.
Footage from the scene shows thick plumes of grey smoke erupting from the mine shaft.
Eight out of seventeen workers present have been safely evacuated from underground, but there have been no signals coming from the others as chances for their rescue grow slimmer.
According, https://www.rt.com, the incident occurred at 12pm local time, according to the mine's owner, the Uralkali fertilizer producing company. While the company described the incident as an "emergence of smoke," Russian emergency services stated that the mine caught fire.
The blaze erupted during construction works at the mine when temporary flooring caught fire, the emergency services told TASS.
The fire continues to rage underground and extremely high temperatures are preventing rescuers from going deeper.
While fire crews are battling the blaze, Russia's Emergencies Ministry has deployed additional forces of specially trained mine rescuers from nearby regions.