Former President Daniel Moi during a previous address
NAIROBI-(MaraviPost)-Duncan Wachira, a former commissioner of police who worked in retired President Daniel Arap Moi's government, has passed on after a long illness.
Duncan Wachira, led the police force from 1996 to 1998. In October 2019, Kenyans.co.ke reported that Wachira had suffered a heart attack and had been taken to India for treatment.
A press statement by State House disclosed that Wachira died on Wednesday, October 21, at his home in Nairobi.
The late Duncan Wachira
President Uhuru Kenyatta has since sent his condolence message to the family, friends and relatives of Wachira, remembering him as a patriot who was committed to the wellbeing of the country.
"I have known Duncan Wachira as a man of great insight and unique qualities. During his time as the head of our police service, Mr Wachira pioneered reforms that improved the welfare of our men and women in uniform," the president eulogised.
In addition, the president stated that Wachira would remain an inspiration to young people serving in the forces.
"Mr Wachira is also remembered for his no-nonsense approach to the fight against crime especially in Nairobi. It is during his time as the top cop, I remember, that many organised criminal syndicates were dismantled," the President eulogised.
"May God give the family of the departed the fortitude and comfort to bear the loss," he added.
Wachira retired in 1998 shortly after the bombing of the US embassy in Nairobi.During his tenure, Wachira and other officers were able to curb highly profiled and feared robbers such Rasta, Wacucu and Wanugu, who at the time, terrorised residents.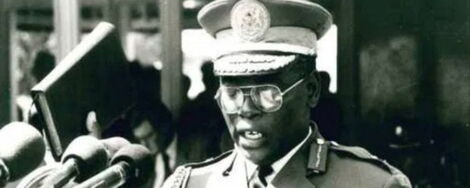 The late Duncan Wachira
Source: https://www.kenyans.co.ke