NEW DELHI-(MaraviPost)– A 33-year-old Indian man who built a temple at his home and installed a 6-feet statue of the US president Donald Trump has passed away.
Bussa Raju Krishna also hit the international media headlines when he changed his name to Trump Krishna in honour of the president of the most powerful nation.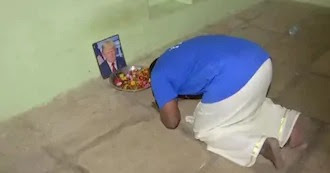 According to Arab News, Krishna began fasting upon learning the US president had contracted the global coronavirus.
He, however, broke the fast on Saturday, October 10, 2020 only when news had reached him that the American leader was recovering well.
The family said the deceased celebrity farmer did not have any medical complications but his life took a twist on the following day (October 11) when he collapsed while taking tea.
"He was feeling depressed for the last couple of weeks after coming to know that Trump and Melania had tested positive for COVID-19. He even stopped eating and only came out of his room when Trump had recovered. However, he collapsed when he was having tea in the morning," his cousin Vivek Kumar said.
He had recently published a video on his Facebook in which he prayed and asked everyone to remember the first family in their prayers, the clip was widely shared.
"I feel very sad that my god, Trump, has contracted the coronavirus. I ask everyone to pray for his speedy recovery," he said.
He started worshipping Trump four years ago, he said the 75-year-old leader had appeared to him in a dream.
Every Friday the devotee fasted for Trump's long life while carrying and keeling down before his portrait and the statue before commencing any work.
The man who lived alone in a village and he erected a life-size statue to Trump in his yard, while his walls are scrawled with the leader's name.
Source: tuko.co.ke
The Maravi Post
has over one billion views since its inception in December of 2009. Viewed in over 100 countries
Follow US:
Twitter @maravipost Facebook Page :
maravipost
Instagram: maravipost