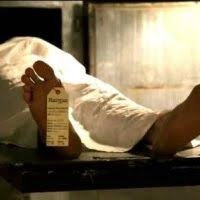 NAIROBI-(MaraviPost)-Shock engulfed Kapkatet sub-county referral hospital this week after a supposed dead man woke up with a scream following the pain he felt as morgue attendants tried administering preservation drugs on his body .
The man is said to have fainted at home and was rushed to the facility for medication , the doctors pronounced him dead only to wake up at the morgue.
The relatives of the person are pointing accusing fingers on the doctors for alleged negligence . They say their person wasn't dead .
"Immediately they took him to the mortuary obituary for body preservation and on process of putting preservatives to his body my uncle came into conscious and scream alot after experiencing a pain on his right leg.
"As you all understand when someone dies preservatives is being placed through a section being cut by professionals ," Dennis an uncle to the victim narrated .
The victim is said to be in stable condition nursing the mortuary cuts . The family is asking the Kericho county health CEC to step in and ensure such isn't reported again .
They have not confirmed if they would pursue legal action even so .
Negligence by doctors is a rampant thing and just few kilometers away in Longisa hospital, a delivering mother was operated halfway by a drunk doctor only to be rushed to Tenwek for correction .
Kapkatet hospital has not responded to the allegations .
The Maravi Post
has over one billion views since its inception in December of 2009. Viewed in over 100 countries
Follow US:
Twitter @maravipost Facebook Page :
maravipost
Instagram: maravipost